collaborations
collections
highlighted
new
10 Questions with Lois Schindeler
COLLABORATIONS HIGHLIGHTED: 10 QUESTIONS WITH LOIS SCHINDELER
Join us as we delve into the design inspiration behind our limited-edition homeware collection in an interview with collaborator, artist and model, Lois Schindeler.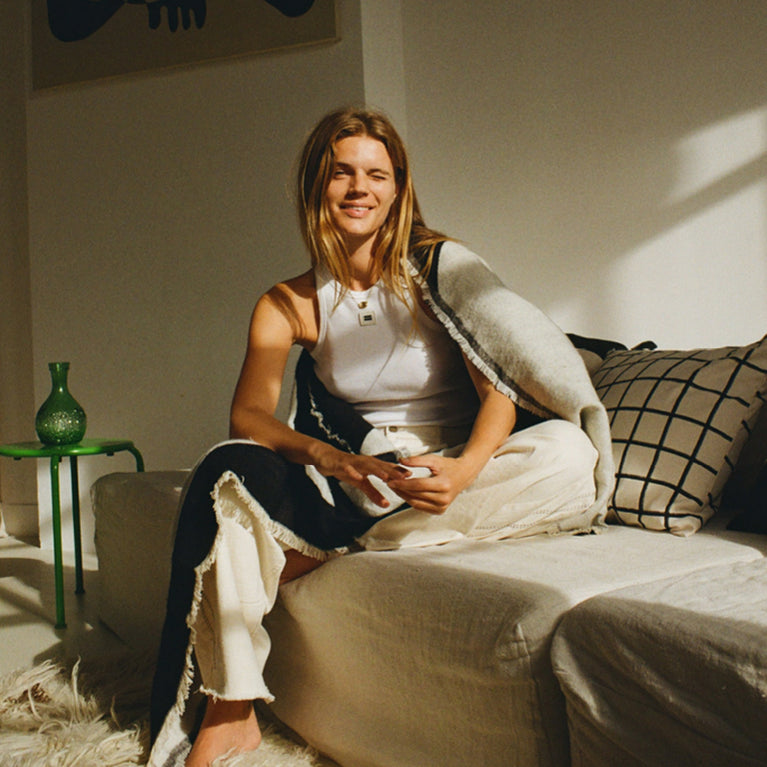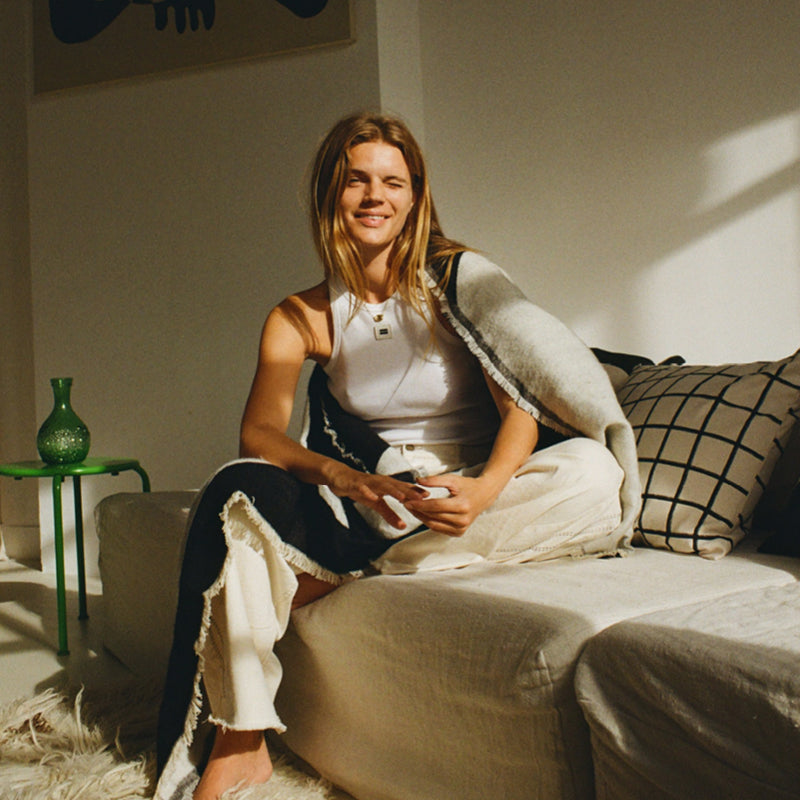 -
1. How did you start Art by Lois Schindeler?
I started in the pandemic. I was always drawing and painting as a kid, and being at home because I couldn't work during covid inspired me to tap into my creativity.

2. Could you describe yourself shortly?
I'm Lois, a model and artist from Amsterdam, 28 years old. I love to use my mind in a creative way, explore the world and it's beautiful nature and spending time with my loved ones.

3. What has inspired your work?
I love warmer colours that we associate with fall and winter. It inspired me for this collaboration. Like a nice yet stormy walk in the forest or on the beach and coming home to a toasty home afterwards, snuggling up on the couch with of course: the plaid and pillows!

4. Can you describe your creative process when working on this collab?
I like to go with the flow. I usually already have something popping up in my mind straight away and work from that. I made many sketches, tried different colours and kept combining it all until the final designs came out.

5. Why are you fan of 10DAYS?
The fabrics just amaze me again and again. So soft and it stays beautiful forever. I also love the clean and playful designs.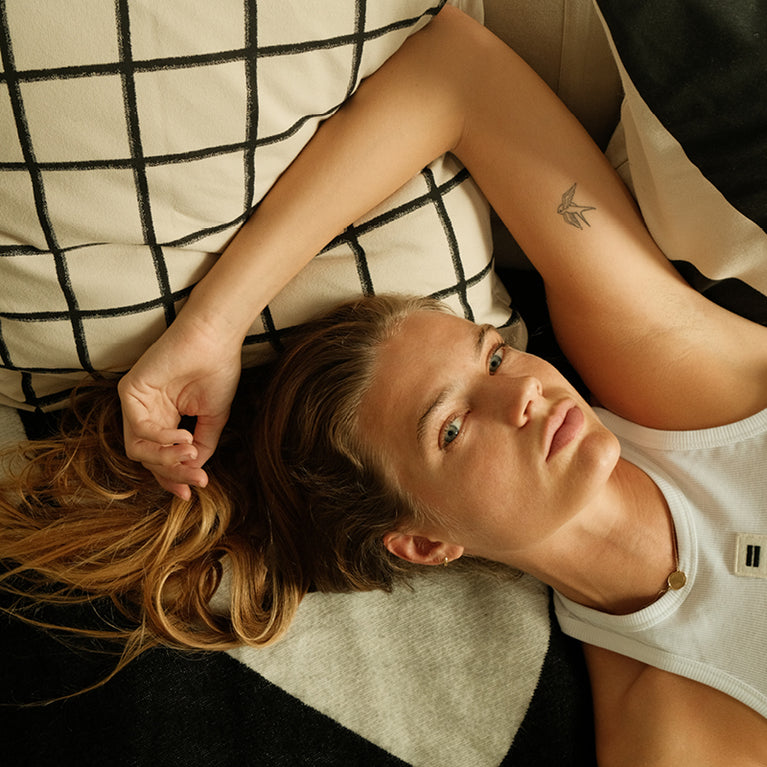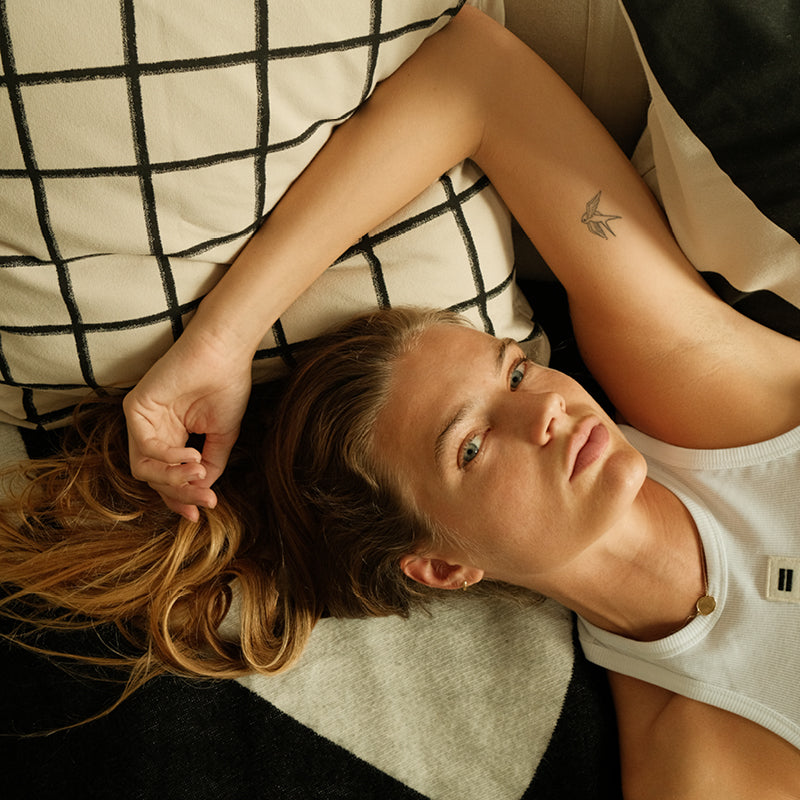 -
6. And what has been your favourite 10DAYS piece lately?
I'd have to say the horse riding twill pants, I LOVE them!

7. What has been your favourite creative material to work with?
I'd say acrylic paint on canvas, it's so smooth yet easy to make texture with. But I'm also super excited about ceramics and to see my designs on pillows and plaids has been so exciting too.

8. You recently came back from the U.S., any favourite moments from your trip?
I honestly loved every part of it in it's own way, it's such a beautiful country nature wise. But my most favourite moment must have been our last ranch stay in Colorado on the Zapata ranch, it has been a dream of mine for several years and
to finally visit the place was amazing.

9. You work with your boyfriend Tom a lot, what's it like to work so closely together?
It's the best but it can also be difficult at times. Because you can be super honest we sometimes start bickering at each other haha. But I think it's a super formula to create very intimate and real photo's. It's just the two of us so we can create moments you can't create with a team of 10-20 people around.

10. How would you describe your own clothing style?
I'd say comfy but sophisticated. If it's not comfy I don't wear it haha. But I love beautiful fabrics, nice key pieces like a nice coat, bag, sweater, jeans.
'I love designs that are funky yet very soothing and organic. I think this is what I aim for in home interior decorating too, so to link my artwork to home decoration was quite a natural one.'